August 17, 2014 Pebble Beach. Something magical happened at Pebble Beach with a 1957 Buick Caballero Estate Wagon on offer from Gooding that carried a pre-auction estimate of $100,000-$125,000. Jay Leno's Big Dog Garage restored the car at no cost in order to benefit The George W. Bush Military Service Initiative, which honors post 9-11 veterans and works to help them transition back to civilian life.
The Buick was signed by President Bush, and sold for a staggering $300,000. But then something magical happened: The new owner walked up to the stage—a highly unusual occurrence at an auction—and donated the car back to David Gooding. The auditorium erupted in a two-minute standing ovation.
"In a spectacular turn of events, Lot 47 is going through another round of bidding in addition to the $300,000 already given!"
With Leno still up there, the car was auctioned off a second time and sold to the original runner-up bidder for $280,000. Another standing ovation followed! So this classic Buick becomes what is probably the highest-selling postwar American station wagon of all time, at $580,000! Living up to the slogan, "Buick, the spirit of American style"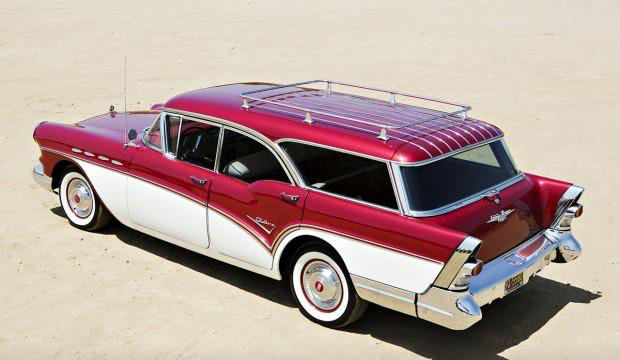 Here is the car description by Gooding:
Positioned at the top of the Buick line and sold only in the 1957 and 1958 model years, the Caballero was inspired by Buick's 1956 Centurion Dream Car. With its B-pillarless design and sweeping door line, Buick's flagship wagon was a true design leader. Though successful, high production costs led to the cancellation of the Caballero model before 1959.
This striking Buick Caballero Estate Wagon has been generously donated to the George W. Bush Foundation by Portland's Sondland-Durant Foundation. Sold new in 1957 by William Murphy Buick in Culver City, California, this Caballero remained in the possession of its original owner until 2012. The classic Buick is said to drive effortlessly, shows very well, and has been hand-signed by President George W. Bush, "43." The George W. Bush Institute, founded by former President George W. Bush and Mrs. Bush in 2009, is a public policy center in Dallas with the mission of advancing freedom by expanding opportunities for individuals at home and across the globe. The George W. Bush Institute's Military Service Initiative honors the service and sacrifice of post-9-11 veterans and their families.
Through research, resources, programs, and presidential recognition – the unique ability of the former Commander in Chief to convene, spotlight, and inspire – the Military Service Initiative unites the efforts of communities, nonprofits, businesses, academia, and individuals to find and advance solutions to empower veterans to continue to serve as national assets after they remove the uniform.